Because I've been getting a lot of questions about my gummy souls, specificly the mold, here's a photo!
I used about 2 lb CopyFlex food-safe silicone, a lb of safe-d-clay, and some release-dit for the mold itself. For the prototypes I used a few blocks of sculpey and some aluminum foil.
Food safe silicone can be bought here: http://www.culinart.net/silicone.html
And of course, the recipe for the gummies:
2 pkg. jello flavor of choice
6 pouches. Knor's unflavored gelatin
3/4 c. Energy Drink (I use Bawls for the blue gummies for color)
1. Pour Bawls into mixing bowl.
2. Stir in gelatin+jello, mix until smooth.
3. Let sit in fridge for 30 minutes to kill carbonation.
4. Pour mixture into saucepan, heat on low heat until melted.
5. Pour into molds/shallow pan, let set.
6. If not using a mold, cut set gummy into bite sized bits.
And the finished gummies are here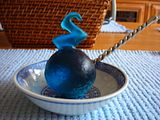 Enjoy!